winter
Okay, so for those of you who don't know … I live in the deep woods of northern Maine. It's beautiful. It's quiet. It's remote. It's still winter! The joke where I live is that we have four seasons: Almost winter, Winter, Still Winter, and the Fourth of July. I didn't grow up here. In southern Maine where I grew up (5 hours south of here) winter is icky, but not horrible!
For nearly twenty years I've lived here and endured. But this winter we broke all snow records. I think in the end we got 16 feet (488 cm) or so. And then to add insult to injury we broke temperature records the first Monday of spring with a record temperature of -14F (-26C)! Aren't we the lucky ones? So today are thirteen reasons I'm sick of winter!
1. Swim lessons are going to be really chilly.
2. I'm tired of grocery shopping with the dogsled. I'd like to take my van.
3. This is the machine that caused sooo many problems over the last few months. It's time to put it away and keep me safe!
4.  I'd like to have running water again!
5. The poor kids are climbing the walls. (Little boy blue is 6′ 5″ … this will give you an idea of how much snow is on my front lawn … do you feel bad for me yet?)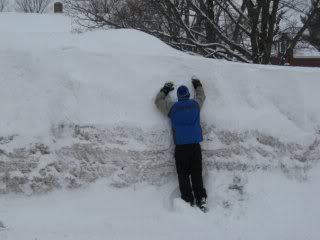 6. I can't remember what the paint looks like on my walls:
7. My aquarium needs to thaw.
8. I'd like to drive on tar again.
9. Because this is so wrong: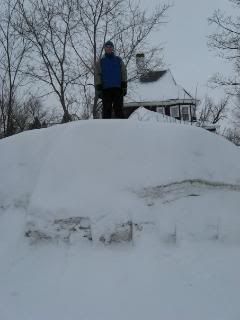 10.  I want to see my front lawn again.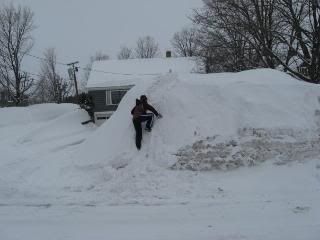 11. Let's face it … I'm just tired of seeing white. A little green and some colorful flowers would be welcome!
12. Because even the birds are tired of the winter.
13. I think my neighbor said it best…
Okay, so obviously all these pictures didn't come from my yard. (Though the bulk of them are the actual snow sitting in my yard.) But you get the idea. Pray for me … snow and rain are expected to come in this weekend.
AAAHHHHHHHHHHHH!
Okay, but I won't be here. I'm heading south to Boston for the weekend where I hear rumors of green grass and budding trees. Oh, one can only hope!