RWA
So I've been laying back for the last couple of weeks. But it's back in the saddle this week. I don't post goals for the coming year … avoid it like the plague. But I thought I could open 2009 with my favorite moments of 2008. Here's the top 13 in no particular order.
1. Road trip in the summer to go visit Beautiful Girl. (We saw lots of other people during that weekend, but seeing number one child topped it off.)
2. Getting my contracts. Each and everyone of them made me smile. Okay, and a couple of times I wept with joy. But I'm queer that way.
3. All the new friends I've met online. I can't believe how much the internet has opened up my circle of friends. Hugs to everyone. You know who you are.
4. Speaking at the library luncheon for seniors (as in retired). Those ladies were a hoot. I brought PG excerpts of my books and they wanted to know where the heat was.
5. Going to the Highland Games in Canada. We've been wanting to go for a really long time and finally just bit the bullet and made the reservations. DH and I would totally do it again. Baby Girl and Little Boy Blue … not so much.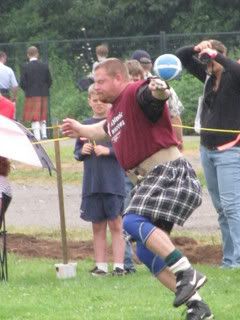 6. Every month I made it down south to be with my home girls. The Maine Writer's chapter of RWA is a kick-butt group of writers. I'm so happy I found them.
7. Picking up Little Boy Blue from engineering camp. He got to spend 3 days at the state university where he wants to go to school and learned all about the engineering profession. Riding 3 hours home from the camp was a chance for us to have a nice visit and I think I learned all the naughty things those high school seniors did. (My lips are sealed!)
8. The record breaking winter of 2008. More snow than northern Maine has seen in … like ever! I didn't say I enjoyed it. I simply said it was memorable.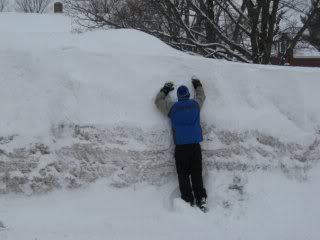 9. Spending 3 days with my critique partner at her house just talking writing and brainstorming plots. I was in heaven! Hugs, Jen!
10. Having a chance to ride a hot air balloon. DH insisted. I've always wanted to do it and it was beyond what I expected! After skydiving, it's my favorite flying (or is it falling) activity.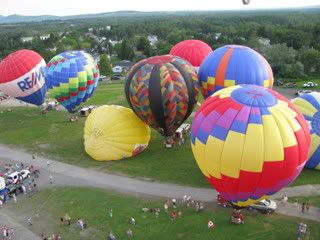 11. Snowmobiling with DH. Okay, so if you look at my blogs from last winter there was more downs than ups. Still the Maine woods in the middle of winter are beautiful. And one always needs good stories about your significant other. Those trips totally added to my repetoire.
12. Visiting with my family. My sister (in-laws), my mom (and in-law), my dad, my brothers (in-laws), nephews, neices, you name it … I love seeing them all. It's the best part of making the looooong trip home.

Oh, that's not my family. It's just a lovely summer picture … don't you think?
13. The Kiss of Death writer's retreat in Oct. Now that was an awesome retreat that I enjoyed from the moment the valet parked my car until I had to say goodbye. I can't recommend this retreat enough. It's in New Mexico next year. And if I can afford it, I'm going!
Thanks for stopping by and I'm sorry I'm not here to chat with you. This weekend is the monthly meeting of the Maine romance writers, a chapter of RWA. Awesome group of ladies (and one gent)! But they meet so very far away from me. I literally have to take the whole weekend to go to the meeting. But I lubs them a lot. So it is sooo worth it. And this month I get to meet one of the other authors at Liquid Silver Books, Elaina Huntley. w00t! w00t! I am beyond excited.
And beautiful girl is coming up from college and meeting us at her grandmother's house. Yay! I haven't seen her since June! She'll be getting lots of TLC this weekend.
Monday is another interview with a fabulous author and editor at Wild Rose Press. So come on back and check out what's going on the beginning of the week!