balloon festival
Okay, the fact is, I love doing research for my stories. I've talked to retired FBI agents, a detective, an architect, and firefighters. I've visited police stations, newspaper offices, and fire stations. It's amazing the places I get to see when I explain I'd like to use the information in a book. I love it.
Then there's the research that takes me places. And this one took me high, high, high! If you haven't figured out from the picture clues …
I went in a hotair balloon!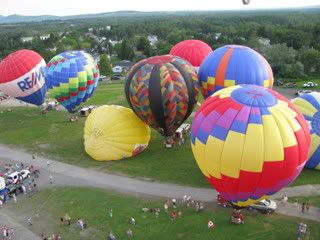 It was my maiden voyage. And I loved it! But what's not to like? Of course I was very nervous. Not about flying (I've been skydiving) … but about my MS. My legs are so weak. Though I can walk, standing for any amount of time is difficult. So they put me in a balloon with seats. Yay!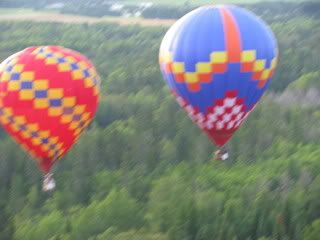 Of course getting into that big old basket began the adventure. You're supposed to do it really fast. So as the balloon fills and the basket lifts, I grab the side of the basket and push with my arms, lifting my leg as high as possible. The pilot, Wild Bill, reaches over the side, muckles onto it, pulling it over the edge while my DH lifts me up from behind, pushes on my butt and basically throws me in. All the while its lifting off the ground from its side to a standing position. Then two young ladies jump in (quite gracefully I might add) and off we go.
We had the good fortune of being the first one up so we got to see the other balloons fill and lift. Beautiful. I make jokes about living in northern Maine, but it is breathtaking here.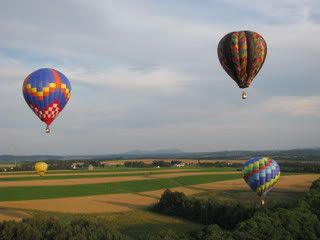 For an hour we floated over the landscape. No noise save for our voices and the whoosh of the blow. (What they call the push of fire to lift the balloon.) Peaceful. The pilot was a gentleman my age and of course I flirted shamelessly. He was teaching one of the young ladies how to fly so listening to him was so much fun. And it won't surprise you when I tell you I discovered Wild Bill's dossier because I am fascinated by people's life stories.
The flight was wonderful. Breathtaking! Everything you would expect it to be.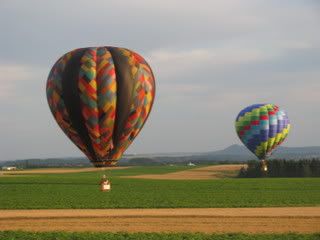 Landing … um … yeah well, that was interesting. Bill told me he wanted me to go down with the basket. I'm all good. I knew I couldn't jump out (which is what the other two passengers did!) So I settle onto the seat, curl into the corner of the basket, holding onto to one of the rope handles. We bump along the ground and the ground crew grabs the basket, the girls jump out and help the crew guide it along until it settles down. Then it tips over sideways with me still in it. One of the crew says "What do we do with her?" Bill replies "Leave her." I just start laughing. He was right. Tucked there in the corner of the basket. I'm out of the way! LOL!
When the balloon is mostly deflated, a couple of the crew show up to help me out of the basket. But my legs had gotten really weak. So getting up was difficult. Bill, being the sweetie that he is … walked over, grabbed me by the waist, lifts me with little effort and sets me on my feet. I just giggled. He was so understanding about my disability. They were all wonderful!
Never let people tell you that you can't do something because you're disabled. My multiple sclerosis rarely ever slows me down! And if you ever have a chance to fly in a hotair balloon … take it. It was outrageously expensive, but we'll eat macaroni and cheese this week … and I'll always have the memories.
That evening they lit the balloons up …
*sigh* I love research.