I am soooo excited! It's been an awesome week. I just got the latest designs for my Romance Trading Cards and they've been ordered and will arrive early next week. Check them out…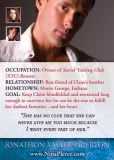 I'm giving away sets of Romance Cards to US Residents. Just email me at Nina AT NinaPierce DOT com with your snail mail address.
And in more news this week The To Be Read Pile gave BLIND LOVE 5 STARS! And Shyla said…
…these characters have layers like onion. Each time Nina peels away more skin we learn something we didn't know, or expect. Nina has a way with mystery. She tells the reader just enough to make them think they have the puzzle solved. Only to turn around and reveal they were dead wrong. Blind love has it all. A romance that ranges from sweet, to sensual, to holy crap my eyes may fall out of their sockets. Characters that are well develop and a setting you relate to from the first paragraph.

This book surpassed my expectations and I would def recommend it as a read.
Oh, and I have a release date for INVITATION TO ECSTASY, the second book in the XTC Resorts series … AUGUST 10! When I have a cover I'll share it with you along with the first look at an excerpt.