This weekend we take time to remember. Families will be placing flowers at the gravestones of loved ones and friends will be gathering to remember and celebrate the unofficial beginning of summer. But this weekend is truly about remembering those soldiers who have lost their lives serving our country.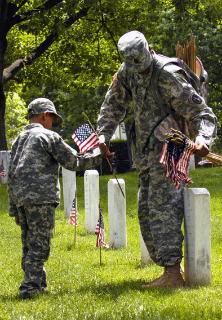 I don't have any family members in the military, not past or present. I don't have anyone to share their stories of service with me. But I am profoundly moved by those families who have loved ones serving in the military, especially in this day and age. No matter how one feels about war on foreign soil, it's the soldier and his/her family that needs to be respected and honored.
I remember when the war in Iraq began, one of the national news stations listed those soldiers that had died by saying their names and hometowns. But then the number of young men and women who sacrificed their lives were too numerous to logistically name on the evening news. My heart aches for the mothers, fathers, brothers, sisters, children, aunts, uncles, cousins who know the names … even if we don't. The loss of one life rippling out to bring sadness to so many. A person willing to give his/her life defending the freedoms we hold so dear. (Over 4400 soldiers have died in Iraq and just over 3000 in Afghanistan.)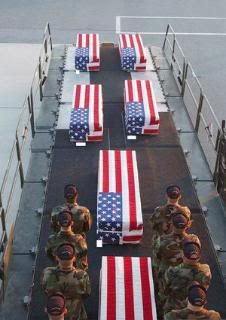 I have friends whose children or spouses are overseas. I marvel at their ability to keep the home fires burning knowing the danger their soldier faces. Still, young men and women volunteer to serve our country every day.
I am honored by their willingness to protect and defend our country. They will never know that one writer in southern New England and her family are praying for their safe return to their families. But I pray for them and peace for the ones who love them none the less.
I hope everyone in the US has a wonderful long weekend enjoying recreational time with their families. But I hope in all the reverie of the weekend you pause to remember those soldiers who are not only separated from their families, but may very well be in harm's way this weekend. God Bless each and every one of them.