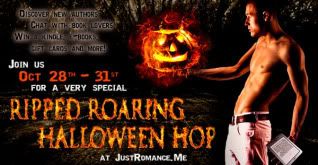 Welcome one and all. This weekend I'm doing something a little bit different. I'm participating in a blog hop with all kinds of authors offering all kinds of prizes. If you happened upon my blog first, please do start HERE and join in on the fun to be eligible to win a Kindle 4!
Since this is a Halloween blog tour, I can't resist sharing some candy …

I have no doubt this tooshie is popular on our hop today. But isn't he worth another look?
Ah hem, okay, back to our regularly scheduled tour … Participants were offered the opportunity to "roll" a scene generator and challenged to use the words offered in one scene. Of course working it into a Halloween theme gets me extra points. (I totally made that up! *vbg*) But here are my characters: VETERINARIAN, DEMON, BOUNTY HUNTER and I somehow I had to incorporate the personality traits SMUG, OBSESSIVE, SHIFTY and it all had to take place in a SALON. LOL! I'm always up for a good challenge. Leave me a comment to know what you think and you'll be entered to win a set of my romance trading cards(which you can check out HERE) and an ebook of BLIND HER WITH BLISS, the first book in my Tilling Passions series.
Please enjoy my story …
I slammed into the salon, the cheery bells announcing my arrival.
The day had dawned way too early after a night that had ended way too late. But calves didn't arrive at the convenience of veterinarians. It felt like I'd no sooner fallen exhausted into bed when the alarm screamed at me to begin another day at my practice. I'd started my morning under a cold spray of water from a water heater my landlord had yet to fix. Add the burned toast and grinds in my watery coffee and I'd barely been coherent enough to change the flat tire I'd no doubt acquired at Old Man Corey's farm the previous night.
"What the hell, Delanie Shepherd? You look like something one of your horses trampled. And I wouldn't call a flannel shirt and jeans much of a costume." My best friend, Peggy sauntered out of the back room, the sexy demon costume hugging her curves, reminding me I'd forgotten to buy candy for the trick-or-treaters who would be knocking at my door tonight.
"Don't give me a hard time. I've had a crappy morning and I'm already running late. I told you I'd pick up little Oliver on my way to the office."
"Of course I remembered. I've got my little guy. We've done some special bonding this morning commiserating about his surgery." Peggy was obsessive about her ten cats. As responsible as she was, she always felt neutering was cruel form of toruture. "Why don't you give me thirty minutes to work at trying to give that hair of yours a little style and maybe find you a sexy doctor's costume you can wear for the day?"
The bell over the door rang.
"No time this morning. I've got shots to give and testicles to remove. Busy. Busy."
"Ouch! I'm glad I'm not one of your patients."
A low groan rumbled in my chest. That toe-curling Irish accent could belong to only one man. So not who I wanted to run into after I'd barely gotten two hours of sleep. But I pasted on my best I don't care smile and turned to find Heath McTabbit in all his six-foot-something-mouth-watering glory standing there in a Hans Solo getup. The Bounty Hunter costume made the local pediatrician appear even more dangerous. The smile he flashed seemed to reach down and grab the pit of my stomach, pulling it into a hot lump in my throat.
"Are you emasculating all males you come across today or targeting specific ones?" he asked.
"Only males with shifty eyes who have no control over the libidos." I shot back.
"Dr. Heath," Peggy cried. "I'm so glad you could stop by this morning to pick up our basket of goodies for the children's party this afternoon. Let me get that for you." Peggy disappeared into the back room.
I rolled my eyes at my dear friend's obvious attempt at matchmaking. Happily married, Peggy hated that I hadn't found my Prince Charming. "I think Peggy's arranging more than hair today."
Heath stepped closer to me, the heat of his body buffeting me through the thin flannel of my shirt. The fresh scent of his cologne assaulted my nose, making my knees go weak. "I for one am glad she did. You seem to avoid me every time we're in the same room."
I backed up, only to find he'd trapped me between the free standing hair dryer and the wall of his body. My heart hammered in my chest and I suspected by the way his gaze dropped to my throat that he could see how he affected me. "That's not true. I do not avoid you. I'm just…a busy woman." A lie. There was something about my younger brother's best friend that I found unsettling. Heath McTabbit never missed an opportunity to single me out at parties. But our five year age difference made me feel awkward and uncomfortable. In our small town, I had no desire to be the grist for the rumor mill that never stopped.
He toyed with my hair, his mesmerizing blue eyes raking my face. "Prove it. Find some sexy costume and join me at the Halloween dance tonight."
"Heath…" I dragged his name over my tongue, trying to make my lips form the word no even as my head screamed yes.
"Stop worrying about other people, Delanie. Don't think what's right. Think about this." His mouth came down hard on mine, not some soft exploration, but a full on assault that had my eyes falling shut and overwhelming me with the dizzying softness of his lips. He tasted and nipped before slowly easing back enough to talk, his breath feathering over my swollen mouth. "Say yes, Delanie."
My lids fluttered open, my mind overwhelmed by his heat. His taste. His smell. "Yes, Delanie."
The smug smile lighting his face, stole what little breath I had left. "Then it's a date," he said dangerously quiet in that Irish brogue that promised wicked tricks and sinful treats.
Peggy's squeeing brought me back down to reality. "Well it's about time you two figured this thing out." She held up a basket of cookies and the cat carrier.
Peggy may have been wearing the demon costume, but when Heath winked, I was sure I'd just made a date with the devil.
~~~~~~~~~~~~~~~~~~~~~~~~~~~~
Enjoy the rest of your blog tour!
****  CONGRATULATIONS TO MY WINNERS  ****
Julia Barrett
(Blind Her With Bliss and Romance Trading Cards)
Donna
(A set of Romance Trading Cards)
****  CONGRATULATIONS TO BLOG HOP PRIZE WINNERS  ****
DJ – Grand Prize of the Kindle
Jessica Sutton – Winner of my "Bonded Souls"
THANK YOU SO MUCH FOR EVERYONE WHO JOINED IN THE FUN!