I feel fortunate that I skirted the worst of Irene. I rode out the tropical storm in southern Maine with a bunch of family. With a generator to run a crock pot we had warm food and great company playing a very spirited game of Spades while the wind howled and the rain came down in torrents. I've been without internet for the last week and though I've been going through withdrawals, it's nothing compared to the people still without power and worst still … damaged property.
But while I was away, several reviews came around for my books. And since I'm working feverishly to catch up on all things blogging (including some over due guest blogs) I'll leave you with some happy reviews.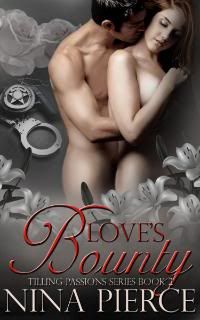 Lilly at Romance Junkies gave Love's Bounty 3 RIBBONS and had this to say…
Passion and suspense go hand-in-hand in LOVE'S BOUNTY. Author Nina Pierce knows how to turn up the heat and keep it on high, which makes LOVE'S BOUNTY a deliciously erotic read. Couple that with the danger brought about by Ayden's case and you'll find that LOVE'S BOUNTY is definitely a high-octane thrill of a read.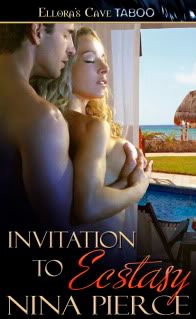 Stacey at Sizzling Hot Book Reviews gave Invitation to Ecstasy 5 Hearts and said…
Sara and Derek have both met their demons but they need each other to be able to face them and overcome what was left in the wake. By pushing the other one, each learns the art of letting go of the hurts others have welded upon them and they begin to believe in themselves once again.

Invitation to Ecstasy is a quick read that will suck you right into the lives of Sara and Derek. I laughed and I cried at different points of their story. Nina Pierce does a fantastic job of giving you enough details to understand the plot and the characters without drowning in them. Invitation to Ecstasy is one of my new favorite books.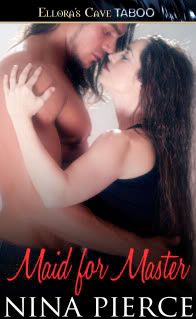 Stacey from Sizzling Hot Book Reviews also reviewed Maid for Master giving it 4 HEARTS and said …
Maid for Master is a sexy erotic romance with lots of emotion. Friendship, love, anger, and hate all forge bonds between the characters as they experience something new. Ms. Pierce brings to life the story of Claire and how her darkest desires do not make her a bad person. In Maid for Master, she explores the ability to live out those fantasies and still be a strong woman.

Maid for Master is the perfect book for someone looking for a story of love with hot fantasies and even hotter interactions. It has a softer romantic side of the BDSM lifestyle that is fun and exciting to read about.