I spent the better part of this week in another state shopping for a new home. The realtor said by the end of it we'll be creating our own house in our heads putting a bathroom with a different livingroom and adding a kitchen from a different house. Oy! Was he right! My head is spinning with all the houses we've seen. I have to tell you, we looked at one house that was … interesting. There was no way to save the house from itself. There was an indoor pool (empty and without a liner) and an outdoor pool and bedrooms that just … weren't. The realtor looked at me when we were alone in the kitchen, smiled and said, "there's nothing to be done here, but blow it up and start again." I nearly busted a gut. Our realtor is normally very stoic and says very little. But the man was right.
Anyway, we found some beautiful neighborhoods with houses that needed renovating and some beautiful houses we could move into in places we'd rather not live. I'm not sure what we're going to do at this moment. All I know is now that I've returned home, there are boxes begging to be packed. I have two weeks left to get it all done. One foot in front of the other …
On the writing front I have to admit I didn't get anything more than blog posts and a couple of guest posts written. My current WIP is just a couple of scenes away from being finished. I just need to buckle down and pound out the words and find my Happy-Ever-After for my lovers. I'd like to finish it before I move at the end of the month. Goal stated.
I did get a really nice 4 CHERRY review from Whipped Cream Reviews for MAID FOR MASTER. This is part of what Mistletoe had to say …
I enjoyed this book right from the start. Claire is a strong woman who can stand on her own. Yet as a submissive she decides to give up control to her Master. Whether he is Master or just plain Jonathon he is a wonderful man who will do anything for love, including keeping a secret from Claire and hoping that, when he reveals it, his heart is not torn out. Watching the two together makes for one hot read. Claire blossoms as a submissive and the love that grows between the two is wonderful…it includes some scenes that were very intense and very hot! I enjoyed this book so much and was happy to see the love and trust between the characters. Nina Pierce does a wonderful job of pulling the reader in and keeping you glued to the pages. I will definitely be on the look out for more of this author's books in the future.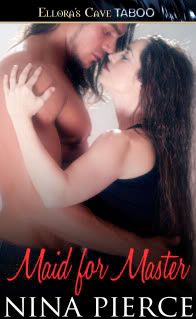 I'll end today with an excerpt from "Maid for Master:
Jonathon dropped the cell phone into the oak drawer of his desk, grateful for the interruption. He'd been sitting in his office below Paradise Cove's main club for the last hour trying to figure out how to handle Claire. No—not handle—men had been doing that her entire life. The woman needed someone who loved and respected all sides of her—the devoted mother, the caring daughter, the submissive lover as well as the corporate executive with an advanced business degree.
He could be that man—wanted to be that man.
Guilt and fear knotted cold in his gut. He'd come close to confessing everything this morning at breakfast. Seeing the gold band winding delicately around her biceps had sent his heart into overdrive. He wasn't sure how Claire would react when she woke this morning in one of the staff lounges and found he wasn't there. He had feared she'd feel abandoned once again and throw it all away. Thank God she hadn't.
He'd tried to steer her toward the idea of the two of them together, but even his heartfelt confession of love hadn't been enough to open her eyes to the possibility that there could actually be something between them. The disappointment had wrapped tight around his heart and he'd grabbed her computer, looking for a diversion.
Jon had fully expected to see that Claire had been pining over her ex-fiancé, which she'd done. But a few clicks of her internet history had brought up the XTC Resort website and its staff photos. His heart had skipped several beats knowing she'd been surfing their website. Of course he had no way of knowing exactly what she was trying to find, but he'd hoped she'd been looking for him. Well, not him but Master Xavier, the Dom who had held her last night as she'd allowed herself to purge the anxiety and discontent blinding her heart.
Jon understood how little she valued herself. Knew she believed she didn't deserve to find a fulfilling relationship. Claire's life had been nothing but one compromise after another.
Well, he planned to change all of that.