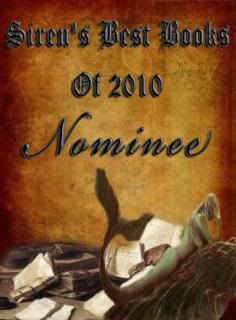 I am soooo pleased to share with you that A Touch of Lilly has been nominated as BEST SCIENCE FICTION BOOK OF 2010 by Siren Book Reviews.
Stacy gave A Touch of Lilly FIVE SIREN STONES and said this…
A Touch Of Lilly has a great story line and plot. The plot twists keep the pages turning. It's easy to get absorbed into this world. Nina Pierce did a wonderful job of bringing her characters to life in this story…The three characters complement one another and have an easy camaraderie that comes through in the writing…If you like your stories with some science fiction and romance mixed together then this is a must read.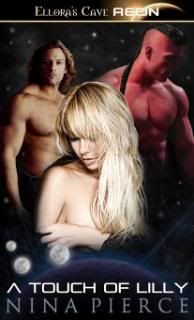 EXCERPT:
Some emotion she couldn't decipher marred Dallas's brow. "I want to help you," he said. "But I can't keep you safe if I don't know everything." He brushed hair from her face. "Thaegan mentioned some myth, but I'm thinking it's much more than that."
The man was an enigma. She wanted to believe the compassion in his voice was real, but the hard set of his jaw communicated something entirely different. But when it came right down to it, she wanted someone to know. Someone who could share her burden without judgment. Lilly had no idea if Dallas was that person, but sitting here, bound and naked, she figured she really didn't have a whole hell of a lot more to lose.
"She was my great-great-grandmother. It's barely a part of me." Lilly looked down. Even with Dallas' hand warm on her shoulder, there was shame in the telling.
His finger came under her chin and gently lifted it. She had no choice but to stare into the chocolate pools of his eyes. "Then it's not your fault. Whatever it is, the responsibility belongs to someone else." His thumb brushed over her lips. "The beginning. Start at the beginning. I have no idea what it is. What you are."
Confusion and frustration warred within her. How could he not know? The answers were as obvious as her beaded nipples and the dizzying aroma of her arousal. Dallas was so close she could feel his body heat pressing against her, making it hard to fill her lungs. Yet the man seemed immune to the sexual energy crackling between them. Even without trying, her own arousal was usually enough to affect any male close to her and drive one with his hands on her to sexual delirium.
"I mean…you're very obviously human." One side of Dallas' mouth curved, the dimple dancing. "But there's something that makes you special." His hand brushed up her face to cup her cheek and she couldn't stop herself from leaning into it. "I just want to understand it."
His gaze searched her face, settled on her lips and Lilly thought for a moment he might kiss her. She wanted to feel the heat of his mouth on hers. Instead, he dropped his hand, rubbing them both on his jeans. "Just please explain to me what Thaegan was talking about."
Even that slight rejection stung. Seduction and escape no longer mattered. What Lilly needed now was Dallas—a human man to accept who she was. Filling her lungs with courage, she stared straight ahead, unable to witness his revulsion as she recalled the story her mother had told her the night of her first menses. "Serapheliums are an ancient race. They came from another galaxy, hundreds of light years from where we are now. It's said they resembled humans, but their beauty was unmatched. Gods bowed down to their perfection and angels sang at their births." She chanced a look at Dallas and shrugged, embarrassment heating her cheeks.
"I can see the resemblance."
She laughed out her disbelief. "Yeah, whatever."
~~~~~~~~~~~~
If you enjoyed "A Touch of Lilly" I'd love your VOTE.