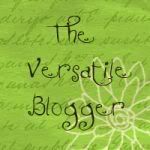 Wow! Thank you to ROSALIE LARIO and CLAUDIA CELESTIAL GIRL, regular visitors to The Block, who both honored me with this blogging award. *blushes* Awww … thanks ladies.
I started blogging when I signed my first contract. It just seemed like I had so much to say and just needed a place to get it all out. The fact that people take time and stop over to read my ramblings is pretty humbling. But it's fun to chat with all of you.
Now, as I understand I need to share seven things about myself. Okay …
1. I LOVE Christmas and my cellar is filled with decorations which explode inside and out turning my house into a Christmas wonderland (except this year because it's all packed. 🙁 )
2. I started dating Mr. Nina when I was 14 … a lifetime ago.
3. I used to be a teacher which satisfied the actress in me that needed an outlet. *vbg*
4. I've actually been in a cadaver lab in college and thought it was pretty cool.
5. I love wine. No, not just have a glass now and again … nothing makes me happier than finding the right wine to go with a meal.
6. I grew up in the country and my siblings and the neighborhood kids used to take our runner sleds out to woods at and sled down this HUGE hill into a field. Yep, we did this as teenagers. It was a blast!
7. I actually went to school for a year to be computer programmer, but I'm about as technically challenged as it comes. Yeeeah, teaching was a much better choice for me.
And now I need to pass this on to other bloggers that I enjoy. It seems many of the blogs I enjoy reading have already been bestowed this honor, but I did want to pass it on to a few of my favorites.
* Kathy Kulig
* Tina Donahue
* Lex Valentine
I hope you'll take some time and visit these wonderful blogs and give them a shout out.
And my lastest news? I got the cover for my newest novella coming soon from Ellora's Cave, Maid for Master Druuuuuummmm roll please …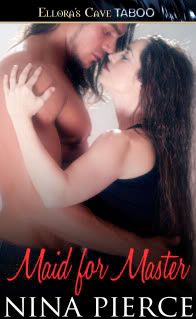 Isn't that just gorgeous? Syneca does an amazing job with all our covers. Mwah! Thanks!
And here's the BLURB:
Treat herself to a carnal weekend at the hedonistic retreat, XTC Resorts? That's not something Claire Calderwood, a three-time loser in the relationship department would ordinarily do. But at forty-one, having a successful cleaning business is no longer enough. She wants a chance to let go of all responsibility, submit to a stranger's sexual demands and satisfy her darkest fantasies.
Jonathon Brierton has known his best friend's sister long enough to recognize her submissive nature. He would like nothing more than to have Claire bound naked and at the mercy of his flogger as he teaches her the sensual art of obeying her Master. At thirty-something, he's a successful real estate developer, owner of a BDSM resort—and hopelessly in love with the older woman.
When Claire follows him to his resort, Jonathon is certain he can keep his identity secret long enough to convince her that being restrained in his stocks is something that will satisfy them both. But lies, deceit and broken hearts may not be so easy to overcome.
I don't have a release date yet, but I'll keep you posted!