After another quick trip around Niagra falls we pointed the van west and headed for Ohio. We didn't need to check into the hotel until later in the afternoon so we could take our time and meander our way through NY, Pennsylvania and Ohio. Mr. Nina became the king of the shanty town tour. It seemed every time he chose to take a detour we ended up in some interesting neighborhoods. Let's just say I was glad we were traveling through them during the day. I decided his motto was "Shanty tour–all the sights unfit to be seen". Of course I'm so blind I can't read the map or the highway signs until we're right on top of them so I have no right to complain where we end up. We did finally make it to Lake Eerie. Mr. Nina insisted I take a picture. So I did …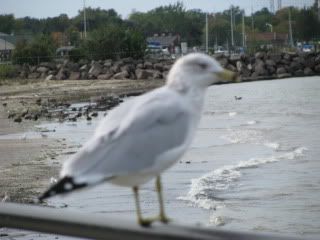 Nope nothing exciting. he was just so amazed it looked more like an ocean than a lake (kinda smelled like it too). I couldn't resist the picture of the gull. Then off we headed to the Lake Eerie state park for a potty break and picnic lunch. (The added bonus of travel with me and my pea-sized bladder is that you get to tour every rest stop and gas station along the route. Mr. Nina's a lucky man!)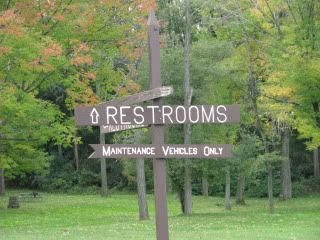 We got to the hotel in Richfield Ohio late in the afternoon, checked in with Jeania and Val (who really were the backbone of RomantiCon), organized my promo stuff and settled into the wonderful room that Jeania fanagled for us. (Read that as a romantic suite with a king-sized bed. Yee-ha!) And then headed out for the unofficial beginning of Romanticon. It was hospitality hour and hanging with the Ellora's Cavemen. I had sex on the beach (it's a drink you naughty-minded people) and all these wonderful hunks …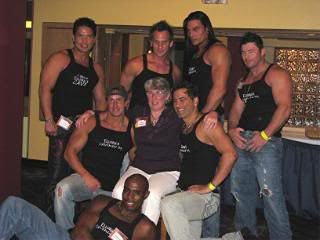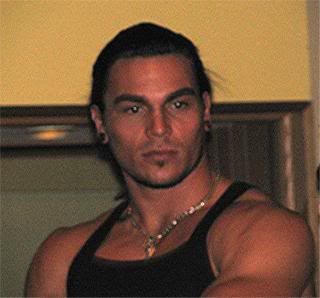 (Don't believe everything you hear … I did NOT stalk Angelo all weekend.)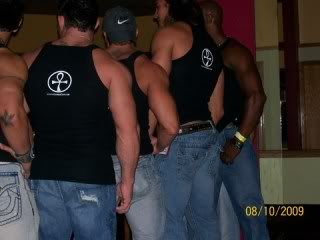 Friday morning Mr. Nina and I hooked up with authors Adele Dubois, Dalton Diaz, Lee Pearce, and Samantha Cayto for a tour of Ellora's Cave offices and printing press. It was so cool to see where everyone hangs out. We were the last to arrive and Patty still had the energy to show us her 15′ python that hangs out in a huge glass case in her office and tell us the history of Ellora's Cave. I never knew any of the stuff she shared with us. Patty then toured us around the office and we peeked into everyone's cubicles and offices. When we first walked into our publisher, Raelene Gorlinsky's office I noticed three things 1) she's immaculately neat, the books on her shelves are straight and stored by size 2) the numerous liquor bottles that fill the top of one of her book shelves and 3) the bullwhip on the leather couch. Turns out the liquor bottles all had sexy names and the bullwhip … well, I never did get the story on that.
From there we went to the printing press where Randy proudly shared the whole printing process. We got to see the pages roll off the printer, be cut, collated and bound. Adele, Samantha and Dalton all got to see their print books in the warehouse. Adele and Samantha for the first time. It was fun living vicariously through them. We actually watched them making the book on ther left. It was wicked cool. And you know how they say "hot off the press" that's because the glue is still warm when they finish the process. I held warm books in my hands. When I hold my first print book I'll remember that day.
Oh, and here's all the beautiful pictures I took to share with you … Oh, yeah, Nina (the ninny) forgot her camera. So you'll just have to take my word for it when I say the offices and stuff were really neat.
Dalton left early with Samantha and her GPS and we stayed to see a few other things. But we weren't worried, Mr. Nina had Val's printed directions to get from the office back to the hotel. Only one glitch … an accident closed the only road that took us back to Richfield. Seriously. The detour shot us back on the highway in the direction we'd come. We got off at the first exit had some lunch and got directions back to Richfield. Guess where they sent us? Back to the closed road with the accident. (And I thought Maine was the only place you "can't get theah from heah") THIS time we got directions from the young woman in the construction truck blocking the road. Let me just tell you 3 rights and a left is a lot harder than it sounds. Anyway, we FINALLY got back to the hotel with time to spare for the Friday afternoon workshops.
Come on back tomorrow and I'll tell you about the rest of the day. In the meantime, enjoy these pictures I took of some good looking cover models…