I wasn't sure where to start with the trip because there's so much to tell you. But I thought I would share all of it, so I'm starting at the very beginning. First of all, I must say … it was wonderful. Exhausting, but wonderful. Mr. Nina and I had a wonderful time. 10 days of just us … well sorta. Besides the 200 other people at RomantiCon, but for the most part—us.
We started out trip with two days in Niagra Falls, Canada. We'd been there before, but just for a quick visit. This time we actually got to hang around and do a couple of things. First of all, I've got to tell you, Mr. Nina fussed and futtered over the hotel reservations. For weeks. I mean weeks. He wanted a hotel with the view of the falls. This is what we got…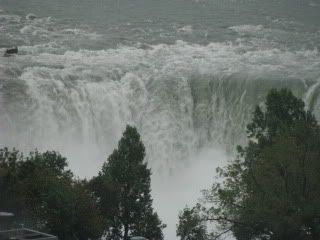 I know, not bad at all. Only Mr. Nina complained both nights because they'd built a new casino attached to our hotel and it obstructed our view (see the night falls lit up to the left?).
No, I don't think it's bad, but it's all I heard about every time I opened the curtains to admire the view from the 22nd floor of the Hilton. Next time he's gonna stay in the casino hotel. Not that he can stand to look out the window … since he hates heights. Which brings me to our anniversary dinner.
We ate at one of the hotel's restaurants on the 33rd floor. It was beautiful. They have floor to ceiling windows and tiered dining so every patron can see the falls. Really cool. Our table was in its own little alcove up about 3 stairs and I sat facing the falls and all the beautiful lights. Mr. Nina? He white knuckled the table the whole dinner because the heights were making him lightheaded. (After two glasses of wine I caught up with him, but still loved the view. *g*) But the food was wonderful and the waiter an absolute doll. A young man who was on a Canadian hockey team and traveled the world. (We got other details, but I won't bore you with them… suffice to say we know what he's naming his first baby due in February.)
The next day we headed downtown. (After a looooong debate about whether to get the car from valet parking–because it costs money and you have to tip them and then pay them to put it back and you get the picture–or take the hotel shuttle … umm, car thank you. Especially since Mr. Nina had rushed me the night before and I'd left a bunch of important stuff in it … like the bottle of wine.) Anyhoo, we headed out. The day was overcast but not rainy.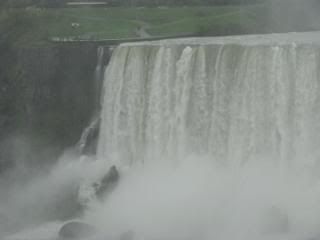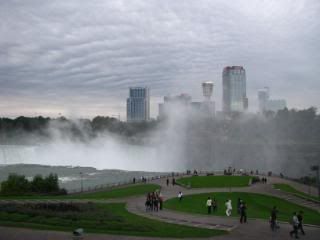 We decided to try "Journey Behind the Falls" where you walk these tunnels to see behind the falls. Cool, right? Did I mention the WALK part. Yeah, you can see where I'm going with this. Anyway, Mr. Nina and I do fine for a little while, but the tunnels were very long, slippery and crowded. By the time we got to see "behind the falls" Mr. Nina was practically dragging my sorry MS butt down the tunnel so I can see this…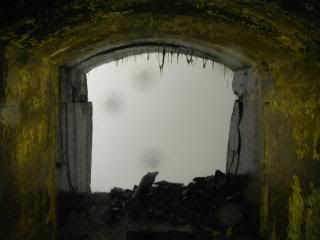 Whatever. Live and learn. There was a closer observation deck at the end of one of the tunnels so I did get up close and personal with the falls and saw this view …
So it wasn't all for not. The falls absolutely amaze me. The power of the water. We could hear the rumble of it even from our hotel room. I'm just in awe. I could stand and just stare at it for hours.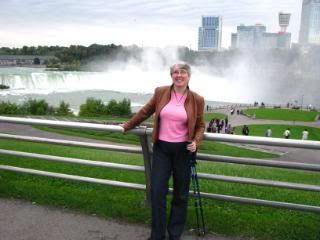 We also spent time in the casino. We're BIG spenders. We play the $.25 machines of slots, roulette and poker. Mr. Nina wanted to play poker at a table, but the betting was a little steep for our wallets with a $15 minimum bet. LOL! Anyway we had a really nice time.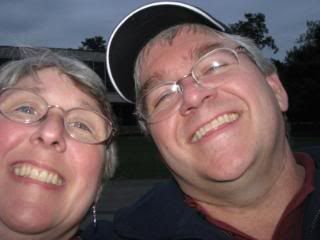 The second night we ate at their Venezualian restaurant with an "all you can eat" cold buffet and meats brought around on skewers by "Gouchos". And no, don't fall over backwards, but I didn't get a picture. We rolled out of the restaurant and didn't need to eat until we hit Ohio.
Which begins the next part of my story …