This week I thought I'd share with you my working space. (Don't laugh … this is the real thing!)
1. Sticky notes to remind me of deadlines, book notes, books on TBB list, and weekly appointments (because I tend to forget these things when I'm writing.)
2. A mug with my kids' picture on it to hold my pens and pencils. (Notice the troll pencil!)
3. Binders on the floor next to me with notes and pictures of heroes, heroines, and research info for my WIPs and series stories.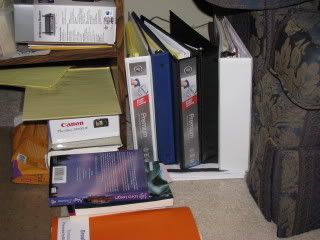 4. A six pack … for those times when I need a little inspiration.
5. Another pair of eyeglasses specifically for the computer. 
6. Lists of all my passwords and usernames for internet places I visit … and there's enough to fill a bulletin board.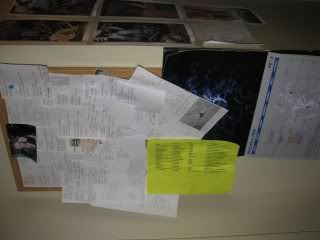 7. Burned CDs with all my books. And one graphic CD for doing the monthly newsletter for my local RWA chapter
8. All my beautiful book covers.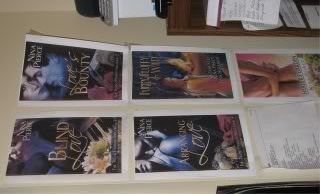 9. Phones: The cordless house phone and my cell phone with blue tooth so I can keep typing even while I'm chatting. 
10. My zip drive. Because one form of backup is just not enough.
11. Oliver … yep that's our formerly sick kitty and he's feeling much better, which means … he constantly wants my attention.
12. Pads of paper for taking notes and keeping daily word and page count totals.
13. And of course … I keep my computer tech really close in case I need … well … anything. 😉