Knock on the door and come on in! Do I have some candy and other treats for you!
Today, I'm coordinating my blog with several other Liquid Silver authors and offering you some real adult Halloween treats. We're offering you "eye candy" and some wonderful ebooks.
Here's my favorite candy to have with my morning coffee:
And then when I sit down for lunch I always enjoy a six pack with my sandwich:
Then I like to get some exercise in the afternoon and treat myself to more candy while I'm at it:
And after a hard day, I just like to settle in with a little candy to help me sleep better:
Sure I have a sweet tooth, but next to Dove chocolate, this is my favorite dessert! And I was happy to share those treats with you! Just leave me a comment and let me know when you like your candy best: in the morning, lunch, afternoon snack or in the evening.
I'll be drawing one name at random from anyone who leaves me a comment before midnight Halloween night and they will win an e-copy of my futuristic erotic suspense novel, The Healer's Garden.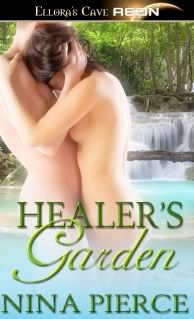 If you want to trick-or-treat with Liquid Silver authors you should have arrived from Savanna Kougar's blog and after you comment you should trick-or-treat at Jeanne Barrack's blog.
If you visit all 9 blogs and comment on each of them, you will be eligible to win the grand prize: A wonderful inbox full of Liquid Silver e-books.
Enjoy your candy today! (If you get lost and can't find your way, come on back and I'll point you in the right direction!)