In the middle of July my family and I travelled to Antigonish, Nova Scotia to see the Highland Games. It's the second largest competition in the world next to the original games held in Scotland. And I took pictures with my new camera. It took me two weeks to figure out how to download them to my computer. Then last week when I hit "publish" I also hit some mysterious button and after two hours of uploading photos, my computer ate my blog. Urrrr …
So, the planets aligned, the computer didn't puke out jibberish and finally … here's thirteen reasons I thoroughly enjoyed the games …
1. Come on … kilts, kilts, and more kilts!
2. Everyone wore kilts. The hotel staff, the little children (OMG, a-dor-able!), the Catholic priest who did the blessing (and he was once a competitor and still holds Canadian records), the police, and the Royal Mounted Police…
3. The Highland Games is a bunch of men throwing stones …
4. And hammers …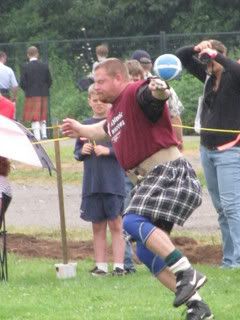 5. And telephone poles …
6. And the whole time they're doing it, you get to listen to the haunting sound of bagpipes.
7. So, we all wonder why everything weighs 56 pounds … well this guy, the master of ceremonies, explains that Europeans weigh things by "stones" and a stone is 14 pounds. So everything is some portion of 14.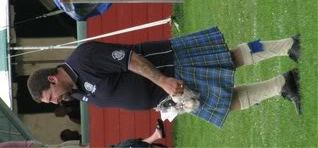 8. So how did this whole thing start? Well, men being bigger versions of boys, when it came time to put away the blacksmith's tools, like the 56 pound weights they hung around horses necks, one said "I bet you can't throw that over the rafter." And so it began …
9. Then they attached the weight to flexible pvc piping, called it a hammer, twirled it over their head and threw it behind them.
Notice the boots. They have special spikes to help them really keep their feet planted. I can hear it now … "Honey, Jim came over to play in the rock pile … do you know where I put my work boots and carpenter nails?"
10. The caber toss is probably everyone's favorite event. You take one man, who has to pick up a 21 foot telephone pole, run with it …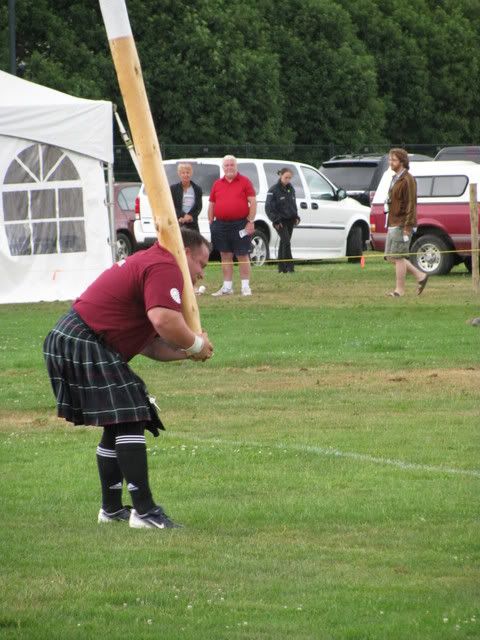 11. Throw it in the air so that it flips end over end …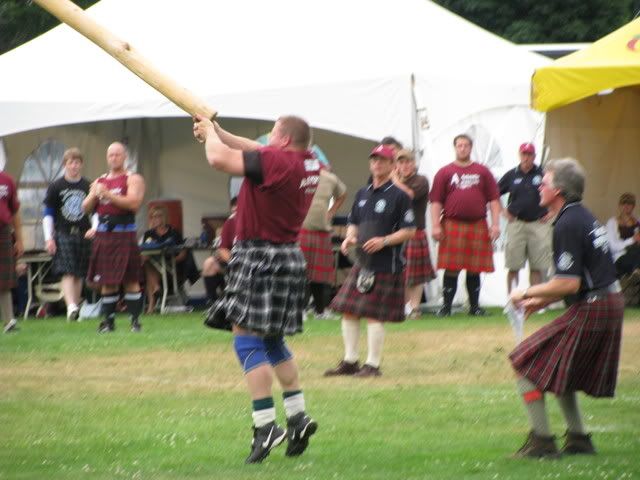 12. And hope they've thrown it well enough to land at 12:00 from their shoulders. (Notice the judge standing behind him to judge the position.)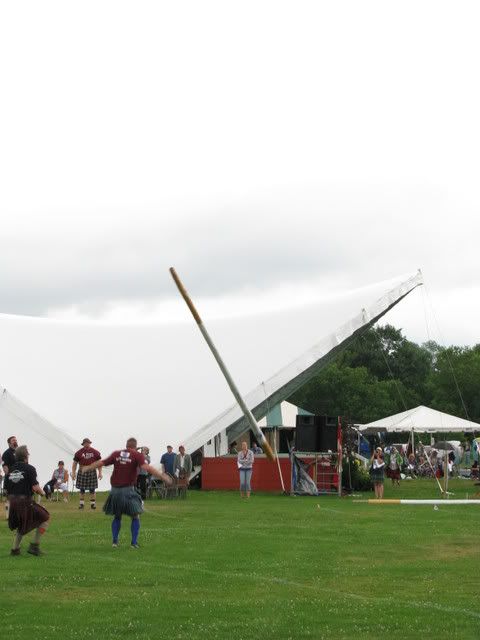 13. So we had a blast … watching the games all day. But did I happen to mention they play bagpipes? Allllll day. Do you know how many tunes they play on the bagpipes? One. Even the most enthusiastic fan will loose it after eight hours of bagpipes!